How to Sell on eBay – Making Money Online From Home
You are cleaning out the basement of your childhood home and you come across an old toy Lionel train engine in a box that you thought was lost a lifetime ago. Then you realize that it is still in decent condition.
Memories of a joyful childhood start flooding back, but you know you cannot keep it because you have too much stuff already. Then a light bulb goes off in your head and you think of selling it on eBay but you have one problem, you do not know how to sell on eBay.
Cha-Ching!
So you take that toy train home with you, looking at it from time to time, still reliving the memories of when you first got it for Christmas when you were twelve years old. You sit at your computer and go up on eBay to do a search for that toy Lionel train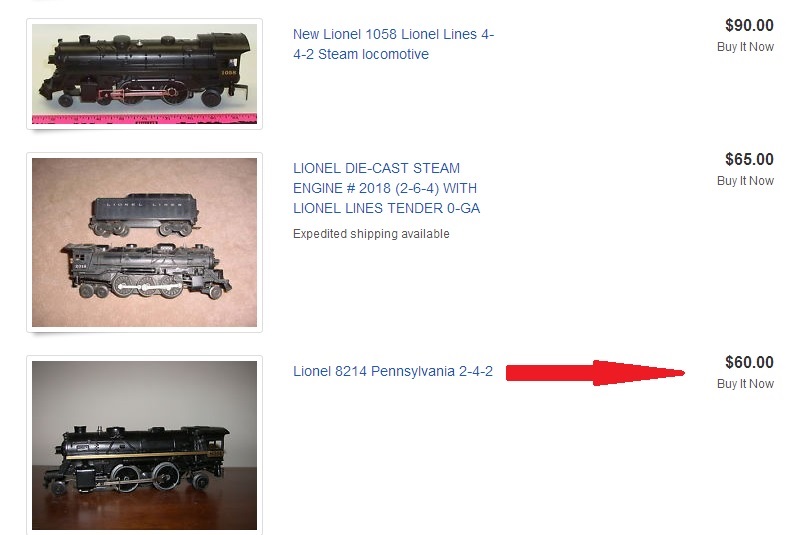 engine. You find 6 of them just like yours. Four are in beat up condition, one in the same condition but it doesn't have the stripe down the side and another that is exactly like yours.
You get an excited feeling because the one in the same condition as yours is selling for $60.00. Woo Hoo!!! You see dollar signs flash in front of your eyes! Not only were you just teleported back in time to relive some pleasant childhood memories, now that Lionel train engine you just found is going to make you $60.00!
The mistake people always make about eBay
Sorry to put the brakes on that runaway locomotive of financial excitement you have there, but that Lionel train engine is not selling for $60. If you look closely at the listing it is only "Listed" for $60. An items listed price is not an accurate measure for what it is selling for or what it is worth.
This is the problem that the majority of people that do not sell on eBay make every time they go up on eBay to see what something is worth or selling for. When you do a search on eBay the results shown will be a grouping of all types of listings matching or closely matching what you are searching for.
Buy it Now vs. Auction Only
The Lionel train engine was listed for $60 and is currently NOT selling for that price. Why is that you ask? Because the listing of that Lionel train engine is what is known as a Buy It Now listing. What that means is that the seller of that train engine decided
he/she wanted $60 for it. For all you know it could be worth $40 and not $60.
When you want to do an accurate price assessment of things that sell on eBay, you must look at the listings that are "Auction" only. If you cannot find the Lionel train engine under an Auction listing then you need to do a "Watch" of that item, because the only way you will know if that train engine sold or not is to watch it to its completion. If you still see the train engine in your "Watch List" after the sale time has ended, then you know that it didn't sell.
So before you go to sell something on eBay you have to do this type of research, because if you do not you may list your item for too high or too low a price. Personally in the 12 years I have been selling on eBay I always do Auction only listings. I rarely do a Buy It Now only listing.
Seller Feedback Rating
If you want to make eBay your part time or full time business you have to be aware that many buyers will not buy from someone they do not trust. eBay uses a feedback rating system to help potential buyers make an educated decision on who they will buy from. Would you buy from a seller who has a feedback rating that is less favorable or one who has a 100% favorable feedback rating?
Not only do I sell on eBay but I also buy on eBay and I will always buy from the seller with the higher feedback rating. I research the seller before I buy. If I see the seller has some negative feedback in their rating profile, I will more often than not look for another seller. The last thing I want to do is buy something and wait for two weeks or more to get what I purchased. I want a seller that offers great customer service just like I do.
In order for you to be successful selling on eBay you need to have several things working for you.
• You need to have good quality products to offer your buyers
• You need to give a detailed description of the item you are selling
• You need to provide more than one picture of the item you are selling
• You need to list your item for a reasonable price
• You need to offer exceptional customer service
• You need to offer a money back guarantee
• You need to securely pack up and ship quickly the item you sell
• You need to have a high feedback profile rating
Things you need to be aware of before you sell
Before I started selling on eBay I decided to start as a buyer to see how the whole process worked from the side of the buyer. By doing this I got to see how the customer service side of things should work, by analyzing how sellers would complete their sales to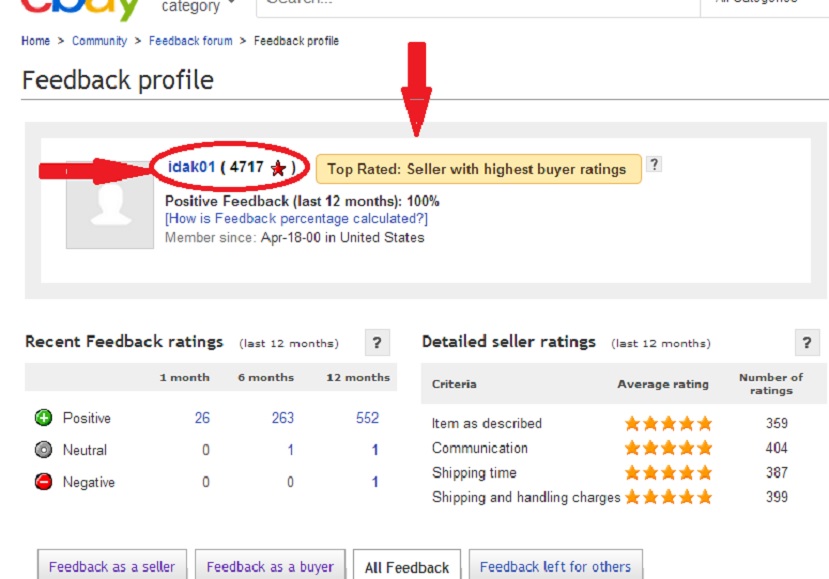 me. How fast did they reply to my questions, how fast did they ship the item to me, how securely was the item packaged , how accurate was the shipping cost and how was the communication in regards to the shipment of my purchased item.
There was also another reason why I became a buyer first. I did this so I could build up my feedback profile. I didn't want to start selling right away because my feedback profile would be at 0 and even I would not buy from a seller with a 0 profile rating. So I continued to buy until my feedback profile was around 50 and then I started selling.
Fees
While I was still just buying I took note of the fees that are charged to all sellers. They were a lot different back when I started than they are now. EBAY LISTING FEES are currently $0.30 for every item you list to sell and you are charged this regardless of the price you start your listing at and regardless if your item sells or not.
EBAY FINAL VALUE FEES are currently 10% of the total final cost (cost of item + cost for shipping and handling). So if you sell something for $100.00 + $10.00 S&H for a total of $110.00, eBay will charge you $11.00 in addition to the $0.30 listing fee for a total of $11.30 charged to your credit or debit card.
PAYPAL FEES are currently 2.9% of the total value + $0.30 per item. Using the same amount as above that would be $3.19 + $0.30 for a total of $3.49 that is taken right out of your payment.
So how much did you actually make on that item you sold for $100.00? You made $85.21 and that $10.00 went towards the shipping cost. So when you sell on eBay you need to be aware that you will not get to keep all of the money you will make on every item you sell.
Selling for other people
Approximately 45% of the items I sell on eBay are from other people. There are a ton of people out there who have items that they want to sell but do not know how to, do not have the time to, or are just too scared to learn how to sell their items on eBay. The remaining 55% is made up of items I personally own and items I buy from wholesalers to resell.
Because of the high fees I have to pay, I sell things for people on eBay and keep 50% of the final value. But because of all of the fees, I am only getting roughly 37% of the 50%.
A better way to make money online
Even if you want to continue selling on eBay, the smart way to maximize your sales and make more money without paying those eBay fees is to have your very own website. I am not talking about an eBay Store. Yes, those are another eBay selling option that could get you more buyers but guess what? You are still hit with fees and you also have to pay monthly fees regardless of whether you sell or not.
Now if you had your own website, you could sidestep those eBay fees all together and still link to and from your eBay listings. You could offer "Auction" listing on your eBay site and offer the same product as a "Fixed Price" listing on your own website and not have to worry about eBay taking their 10% cut.
Using my eBay Seller ID as my brand
So how can you get your own website to bypass all of the eBay fees? The same way I am going to do it! In addition to building
this website that you are reading this blog post from, I am starting to create my own website for selling some of the items I currently sell on eBay.
I intend to use my eBay seller ID – idak01 – and name my website using that ID within the name. So when people are up on my eBay pages, they see my seller ID name and then they see that same name, idak01, as part of the name of my website. Then they will know I am the same person and when anyone looks at my seller profile on eBay, they can see I am a Top Rated Power Seller which will give them confidence in their purchase..
So in order to do it right I have to create the website myself. Sending it to one of these online places that will build your website for you is not going to be beneficial, because they will not put my personal character into it. So I am building it myself here at Wealthy Affiliate.
Wealthy Affiliate is the best answer
Wealthy Affiliate is not just about Affiliate Marketing. Wealthy Affiliate is mostly about training you how to build a successful online business of your own. They teach you how to create a website and to do it right so you can get it ranked into Google. You will learn the correct way to use keywords and other search engine optimization (SEO) techniques to help you appear on the first couple of pages of Google.
This is important because that is how you will get the most traffic. Think about that! When you go up on Google to do a search for something, how often do you go past the 2nd page before you click on a webpage for the answer you are looking for?
So if you want to really make good money selling on eBay, having your very own website will not only create more traffic for both your website and eBay listings, but it will save you money by allowing you to sell your items without paying those annoying eBay fees. Wealthy Affiliate can give you that financial edge by teaching you how to build your website and to do it correctly.
It's easy to build a website at Wealthy Affiliate
eBay also has an affiliate program as well but in order to be a part of it you need your own website, so there is another reason for having a website. The best part is that you DO NOT need any knowledge of HTML or any other type of computer programming to build and create a website at Wealthy Affiliate. Everything is fully automated! If you want to see how quick and easy it is to build a website at Wealthy Affiliate, check out the video on my Getting Started page.
Here is another reason why having your own website is so beneficial if you are selling on eBay. Let's say you are selling an iPhone 5 on eBay but you have several more. You could list them all up on eBay as a multiple item auction and pay that 10% fee on each one that sells or you can sell the one on eBay and let people know that you have others on your own website.
So if you want to sell on eBay as a part time or full time job and do it in a way that will maximize your profits, make sure that you have your own website. This will help you to save money so you don't have to always pay those eBay fees, which you cannot avoid if you sell on eBay. Wealthy Affiliate can give you the best training anywhere online to accomplish this.
If you have any comments and/or questions about this blog post or eBay, please leave them bellow and I will respond back to you within 24 hours. Thank you!
https://legitimatejobfromhome.com/how-to-sell-on-ebay-making-money-online-from-home/
https://legitimatejobfromhome.com/wp-content/uploads/2013/11/EBAY-ADVANCED-SEARCH.jpg
https://legitimatejobfromhome.com/wp-content/uploads/2013/11/EBAY-ADVANCED-SEARCH-300x300.jpg
At Home Jobs
be your own boss,how to sell on ebay,popular items to sell on ebay,work from home
You are cleaning out the basement of your childhood home and you come across an old toy Lionel train engine in a box that you thought was lost a lifetime ago. Then you realize that it is still in decent condition. Memories of a joyful childhood start flooding back, but...
Robert
Prescott
robertp@legitimatejobfromhome.com
Administrator
The Best Legitimate Job From Home