Current Facebook Scams – Is GamerExpert.Net Legit
A warning about current Facebook scams, especially those associated with the GamerExpert website. Is GamerExpert legit? NOPE! Let me show you. On this website I do one of two things. I expose make money from home online scams and also offer legitimate alternatives.
Alexander Smith, a Facebook scammer tried to get me
It all started innocently, but thankfully I have a knack for spotting scams. A Facebook friend of mine had posted a video of a street artist repainting his portrait of George Floyd that someone desecrated by painting a black X over the face. It was amazing how he fixed it all.
Naturally I had to share that video. This long red-haired street artist is blessed with an amazing talent. You could hear passers-by beeping car horns and screaming out praises at his miraculous work, in which he would briefly turn around and wave, like in the above image.
Then about a few minutes after I shared the video on my Facebook Timeline someone by the name of Alexander Smith posted a comment saying, YOU WIN!! Check my profile, see the above image. Naturally I was shocked but also curious. What did I win? Let me see.
I went to this profile and first noticed a cover photo of the popular reality TV show Diesel Brothers with a profile picture of Heavy D and the name Alexander Smith under it. That right there should be a Red Flag. Is Alexander Smith a real person and why pretend to be Heavy D?
Even what appears below the name, though looking official, doesn't grammatically read well. "Welcome To My Facebook" and "This Is Real & Official Giveaway" sound more like a scam to me. However I knew about the Diesel Brothers Cash Giveaway so I explored further.
There was a video by Heavy D showing off a briefcase full of $100,000 in cash that he was claiming to be giving away to a lucky winner. Cool! Who couldn't use that money? But even though there is a Diesel Brothers Cash Giveaway for 2020, who is Alexander Smith?
Time to put my Scam Detection Hat on
So now I read what this scammer wants me to do. As I read his instructions as you can see in the next two images below, I am noticing his grammar of the English language is not all that great. If this was a legit cash giveaway, the grammar would not have errors like this.
The video above the instructions is from Heavy D where he says he is giving away $100,000.00 in ten $10,000.00 bundles. However the instructions say "I randomly chose people to receive a $10,000 prize for 50 winners." Do the math. That's $500,000 and not $100,000 like in the video.
Though my scam radar was buzzing already, this mistake was yet another Red Flag proving this was one of the latest Facebook scams going around. Even his further instructions and the link he wanted me to click on was highly suspicious. It's a Google Sites sharing access page.
Would you not think that if this was a legit cash giveaway by Heavy D of the Diesel Brothers, it would go to an official Diesel Brothers website? This scam link Alexander Smith wants you to click on is a registration page to the actual scam known as GamerExpert.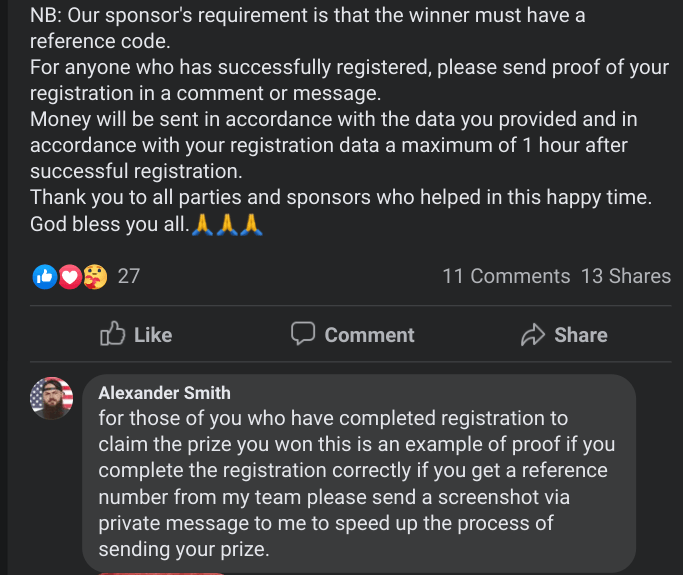 As seen in the above screenshot, is more proof this is a scam. "Our sponsor's requirement is that the winner must have a reference code." Why would a cash giveaway directly from Heavy D of Diesel Brothers have a "Sponsor" and require you to get a Reference Code?
That makes no sense at all. Then the scammer Alexander Smith goes on to tell and show what you need to do to complete the registration process and receive your prize. This is where you first learn about the GamerExpert.Net website along with a sample reference code.
GamerExpert has a ton of scammer complaints
As I always do when presented with a money opportunity, I research the main player and or website. I asked Google, is GamerExpert legit? The results I had seen was further proof that I should avoid this scam. A lot of people were having their credit cards unknowingly charged.
Here are some complaints said on one of the websites I visited…
"I was also scammed out of my credit card number and money off of my card. This is not a legitimate whatever. I don't know what is going on, but I am going to find out." – Stefanie Elston, 03/27/2020

"I registered because I wanted ro watch a movie and found out there are no movies available. It says I don't have to pay for anything, but they charged me in my account. Tried cancelling the membership but cancel option is not working. My card info is still in their site, f*ck!" – Eljen Poquita 11/29/2019

"Phishing! Never visited this website but they've made a direct debit on my bank account!" – Aline 09/17/2019

It is quite obvious without getting directly involved that these current Facebook hoaxes that are tricking people into signing up for any kind of offer to win money or prizes, are NOT safe! The offers themselves are FAKE and the membership to GamerExpert will take your money.
This latest Facebook scam by Alexander Smith, impersonating Heavy D of the Diesel Brothers reality TV show and their Cash Giveaway promotion, is a total FRAUD! Even Heavy D on his Facebook page warns people about these Facebook Hoaxes and Scams.
AVOID any kind of membership to the GamerExpert.Net website
No matter what the prize you are told you have won, NEVER EVER get involved when being randomly selected, especially on Social Media. The only way for it to be legitimate is if the offer is located on an Official Facebook or Instagram Page with a blue circle check mark.
The GamerExpert website is a total scam and if you give it ANY private information like your name or email address, it can and will find out any other personal credit, debit or banking information you have tied to your name and email, without you giving that financial information.
Still not convinced that what I am saying is the truth? If you want to read 14 more complaints about GamerExpert, click here to read more. I have exposed many make money online from home scams before on this website. This current Facebook scam needs to be AVOIDED!
Online & Social Media Scams are designed to trick you
No matter what the opportunity is, a contest, a sweepstakes, or a money making opportunity, never give any kind of personal financial information just to get started. You CAN make money online from home but it will never be easy or quick like the scams want you to believe.
Personally, when I joined an online training university in affiliate marketing that gave me everything I needed to create my own internet startup, I did not have to pay anything nor did I have to give them any kind of credit card or banking information. Sounds great, right?
There are many legitimate opportunities available online, and I showcase many of them on this website. However these Facebook and Instagram scams promoting the Diesel Brothers giveaways that they do, are all frauds if they do not appear on their certified pages.
https://legitimatejobfromhome.com/current-facebook-scams-is-gamerexpert-net-legit/
https://legitimatejobfromhome.com/wp-content/uploads/2020/07/Current-Facebook-Scams-0-1.png
https://legitimatejobfromhome.com/wp-content/uploads/2020/07/Current-Facebook-Scams-0-1-150x150.png
Reviews
current Facebook scams,fake diesel brothers cash giveaway,is gamerexpert legit
A warning about current Facebook scams, especially those associated with the GamerExpert website. Is GamerExpert legit? NOPE! Let me show you. On this website I do one of two things. I expose make money from home online scams and also offer legitimate alternatives. Alexander Smith, a Facebook scammer tried to...
Robert
Prescott
robertp@legitimatejobfromhome.com
Administrator
The Best Legitimate Job From Home