How to Get on Page 1 of Google
Many internet marketers want to know how to get on page 1 of Google. In this post I will tell you how I have achieved this goal many times and what you should expect. Too many times I have read comments from website owners thinking that getting on page 1 is an exact formula and a quick process.
One thing you need to understand is that there is a lot of misinformation online about how you can improve the SEO of your website for better rankings. I am not saying that all of it is false but what I am saying is that a lot of it is outdated information.
The Evolution of Search Engine Optimization
Search Engine Optimization (SEO) is constantly evolving. What used to work two and three years ago, most likely does not work now. In some cases, like using multiple keywords, it can even hurt your rankings within the search engines.
And just for the record of this post, when I talk about search engine algorithms and SEO, I am talking mainly about Google. They are the major player when it comes to anything having to do with search engine rankings. They own more than 70% of all search traffic, making them the largest search engine.
Let me also clarify that SEO is not something you can do and then forget about it. That is not how it works. It has to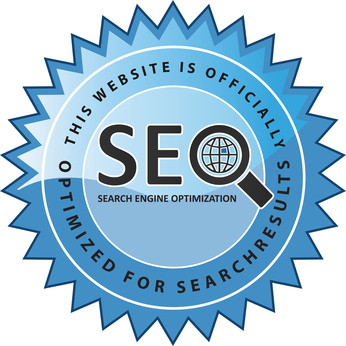 be an ongoing process of many different factors, all aimed at keeping up with the evolution of SEO.
Google uses about 200 different factors when determining the ranking of website content and about 10% of those factors change every year and sometimes bi yearly too. This is one of the reasons why it is tough to nail down the exact formula for getting perfect SEO all the time. You must constantly work at it.
Why is SEO so complicated?
I believe that it needs to be complicated so that everyone seeking it starts off on an even playing field. If SEO were easy and a one-time affair, everyone would be doing great in the search engine rankings. If that were true, we all would be getting many of those spammy websites in search results. Do you want that?
By making the process of getting on to Google page one a tough and complicated feat, the small internet marketer can compete with the big boys too. But there are some basic guidelines that Google has provided in which everyone can follow, and over time if implemented correctly WILL yield results.
I personally follow these guidelines and have had great success. Not perfect success, but definitely above average success and that makes me very happy, with a sense of OH YEAH – I CAN DO THIS! What are these guidelines? Like I said there are many, but the below infographic will provide you many of the common ones. Click on the Infographic to enlarge.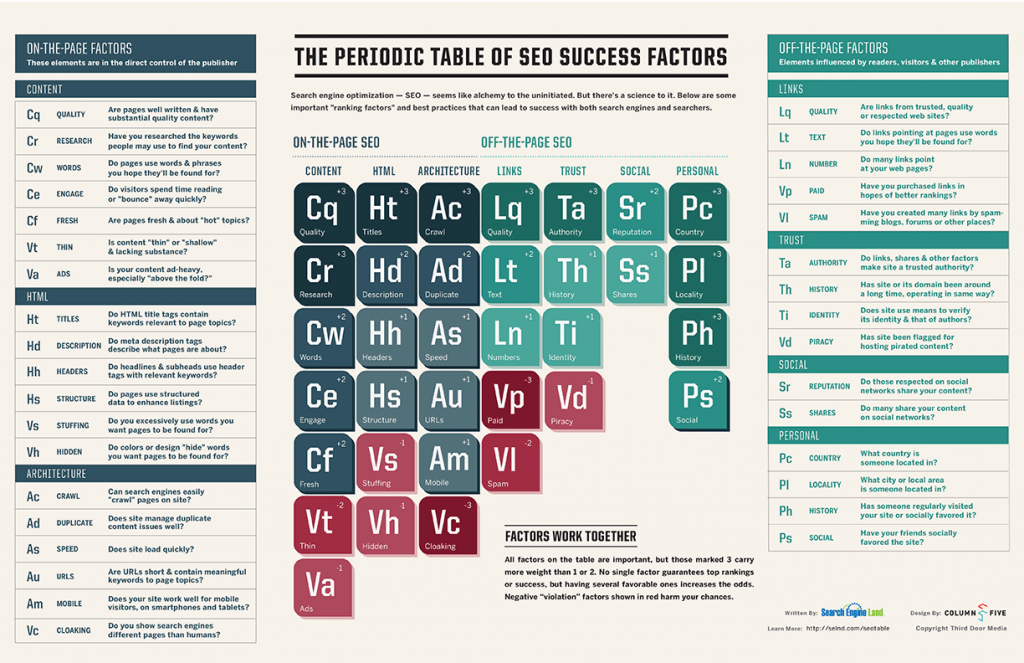 Infographic used with permission from Search Engine Land.
Google Page One of this website
Currently as of this writing, May 13, 2015, I have a combined 17 pages/posts of this website on Google page 1. Five of them in the number 1 position based on certain search queries. I make sure that I use well researched long tail low competition keywords and place them in my titles and descriptions.
Would you like some proof? Do a check yourself. Open up another website browser window, go to Google and type in these search queries. These pages should appear in the number one position. You can validate it by my website URL or click the link and you will see this website you are currently on.
DO A SEARCH FOR THESE QUERIES:
• how to stay clear of online scams
• review of cgp gallery
• my online business empire review
• ds domination monopoly
• are adsense revenue sharing websites legit
These are just 5 of the 17 pages and posts from this website that are on page one. Even though Google's ranking algorithm is quite complicated and I certainly do not know all of their ranking factors (does anyone other than Google know?), I am still able to achieve the coveted goal of page one rankings.
Content is King & Keywords are Queen
I am sure you have heard that saying before, that Content is King. Well I always add on to that by saying, Keywords are Queen. This basically boils down to that without targeted keywords in your content, it will be harder to rank well in the search engines.
But before you start racing off to "stuff" your content with keywords, just stop and keep reading. There was a time a couple of years ago where the more keywords your content had the better. However that is not the case anymore. More is definitely NOT better. More keywords can get your content into SEO trouble.
This is called Keyword Stuffing and Google does not look kindly on Keyword Stuffing. So when it comes to using keywords, I will use the targeted keyword in the page or post title, then once again within the first 140 to 155 character spaces of my content and then one more time near the end of my content. If I can get it into a Heading Tag, that would be ideal. If not, then anywhere near the end is fine.
There is no need to repeat the targeted keyword any more within the content. Google's algorithm, for knowing what the targeted keyword is, has become much smarter than it was a couple of years ago. Just make sure the keyword is in the title, in the beginning of the content, and again near the end. That is it!
No need to stuff anymore keywords into your content because it will not help with your SEO and will actually hurt it. When Googlebot crawls your content, it wants to read it as though it was a real person. A great User Experience will lead you to better SEO every single time.
Google Page 1
You are probably saying to yourself, all of this information is helpful but how do I get on to page one of Google? Here is the quick step-by-step answer.
• By doing what I do and write quality content based on long tail and low competition keywords
• Using the keywords in the 3 appropriate spots – Title, Description & near the End of Content
• Share the link on every social media network multiple times per month every month
• Continue to add quality relevant content on a consistent schedule
• Make sure you are using and submit a Sitemap
• Make sure you have Google Analytics and Google Webmaster Tools installed and registered
• Be patient and WAIT!
It will take time, weeks and even months, for Google to truly rank you high up in the search results. Now you may see your page or post ranking fairly high shortly after you have published it, but that is not a true indication of its rank. All new content, if it is well written, gets a brief encounter with high rankings.
I have heard several people call it the "Google Dance" where you are ranking highly with a new post and then it drops like a rock a couple days later, only to come up a little in a week or two. There are so many factors that go into how Google ranks a website that the only thing you really can do is follow the guidelines and wait it out.
Freshness Matters
While you are waiting you need to consistently continue to add content because Google wants to see fresh new content being indexed on a regular bases. When they see this happening they will take notice and basically say, this website is active with new content, we must reward them with a boost in rankings.
Now of course you must be following the guidelines for that boost to happen. You cannot just be throwing up poorly written and created content. Like I said above, if your keyword is in the Title, early in the first paragraph, and then one more time near the end of the content, then those are the first key steps that will help you to achieve your goal of page 1 rankings.
Another factor of fresh content is comment engagement. Google considers the comments being left on a website as new content. Comment engagement from your website readers is yet another ranking factor that will contribute to higher rankings within the search engines, so make sure you are providing relevant and compelling content that gets people to engage.
A Mature Authority
Like I said earlier, there are about 200 Google ranking factors and two others are Maturity and Authority. Let me briefly explain maturity because there is not much to say on this factor. The more mature in age your website is, the quicker it will get ranked. However this maturity also works hand-in-hand with authority.
Over time your website will gain authority in your respective niche because of the continued increase of quality informative website content, and the engagement of said content by your website readers which include comments and sharing (see below).
By providing a good User Experience for your website readers, you build authority and after all, your website content is written for your readers and not the search engines. Those who write for the search engines will not do well with SEO.
Sharing is caring
I can go on and on about the many ranking factors, but the last thing I want to touch on has to do with sharing. When you provide valuable informative content on your website, there is a good possibility that your website readers may want to share it. This is why having Social Media Share Buttons on your pages and posts are valuable to have.
Google will also look at the social signals, those are the amount of times a unique user has clicked on that social media button to share the content. The more social shares the more engaging the content is, at least that is the theory.
Google loves the sharing of content, and another way that this will help your SEO and thus better Google rankings, is to share your own content by interlinking your blog posts with other relevant pages and posts on your website. Internal linking is far superior to external linking. By sharing your own website content you are telling Google, hey, my content is worth sharing.
So now that you know how to get on Page 1 of Google, with several of the ranking factors I have shared with you in this article, it is time for you to take action. Share this page of content with people on Social Media so they can benefit from the knowledge too.
If you would like to learn more about Keyword Research, SEO and how to build a WordPress website for either personal or business uses, I invite you to join the online community that has taught me almost everything I have shared with you here. This place is called Wealthy Affiliate, also known as Wealthy Affiliate University as seen in the banner above right.
They have a Free Starter Membership that will teach you the basics to what I have shared with you here as well as provide you with many options to start your own online business. The all-inclusive monthly cost for this online education is extremely inexpensive, yet the knowledge you gain is valuable! For more information, check out my FAQ Page. – If you have any comments or questions, please leave them below and I will reply back.