Internet Jobs From Home
Nowadays there are many who are seeking internet jobs from home, so that they can spend more time with family and less time commuting to a job that can be done away from an actual building. With the use of the internet being what it is today, many things both personal and career-wise can be done from almost anywhere.
When it comes to making money on the internet in your own online business, there are many things one can do. Though I will not be covering them all here on this page, I will explain the five ways I make money online and tell you what you need to get started in them. I will begin with my favorite and end with my least favorite. So let's get started.
The type of work I do from home.
AFFILIATE MARKETING: This way of making money is by far the easiest way to operate an online business of your own. Once you set it up there is very little you need to do except occasionally reply to comments, update new affiliate links and share your content via social media. The products that you sell from your website, will sell themselves. You do not have to deal with the customer or the product. All you do is collect your percentage of the total sale.
So how does affiliate marketing really work? You create a website based on everything that needs to be known on a particular product, also known as a niche. Then you place relevant affiliate marketing ads on your webpages and posts. This can be seen in the picture to the right, with the Amazon ads for video games on one of my affiliate marketing websites. When someone comes to your website for information and then they click on one of your advertisements, you get paid a commission on the total sale of what that person buys. I have a video on one of my blog posts that explains the process.
What companies participate in affiliate marketing? Practically every company that has a website and sells products. Amazon is the largest company and there are also many other well-known retailers that offer affiliate marketing. If you can name them and they have a website, there is a very good chance that they participate. With millions of different products available to promote and sell via affiliate marketing, someone who participates in it normally has more than one website promoting more than one product or niche.
For example, I have 3 websites that I make money from. One of them promotes natural health products, the other promotes video games, and another promotes internet marketing. I am currently in the process of creating two more websites that will be a part of other areas of expertise, one of them being that of the following…
WEBSITE CREATION: This next way of making money online goes hand-in-hand with what is promoted on this website. On this website I promote an entrepreneurial business and training community that teaches people from all over the world, and from all educational backgrounds, how to create fully functional WordPress websites and blogs without programming them.
Because I have achieved this knowledge and all of the aspects that go into creating a website, such as Keyword Research and SEO (Search Engine Optimization), I am qualified to create WordPress websites. This means that my other website is based on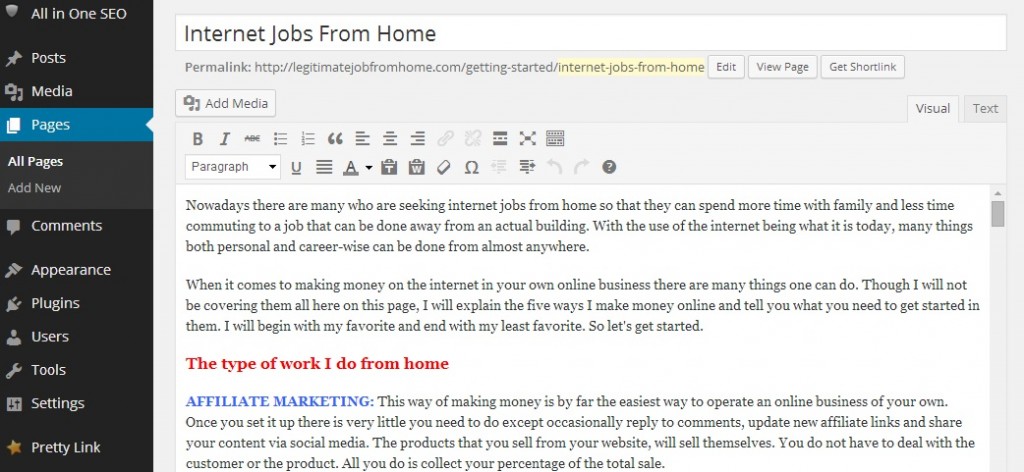 marketing my talents as a WordPress website designer/creator. I basically promote myself and services on my website.
With this online training and business community which I am a member, I can create and host as many websites as I want all for the same yearly price. This makes it very profitable for me to create 3 or more, because what I charge for the first 2 websites, will pay for the entire yearly membership fee. Any websites I create starting with number 3 and up will be pure profit. In regards to the other techniques that I mention above they also play a major role in my next business endeavors.
CONTENT WRITING & KEYWORD RESEARCH: When you take the training for building WordPress websites, you will learn various aspects of keyword research and how to write content based around those keywords. This training will teach you the most up to date methods of SEO in regards to the use of keywords, and how to write content that will convert your readers into buyers.
Though content writing is something that really needs to come forth naturally from within, the more you do it the easier it becomes. Just like most things in life, practice makes perfect and when you can write compelling and interesting content, you can make sales.
By developing the skills to write quality content there are many home jobs that you can get as a freelancer writer. Though I have not yet started in the content writing home job arena, I am however doing small writing jobs on Fiverr and for other local company Facebook pages. I am also offering my services at coming up with low competition keywords for local businesses.
EBAY: You can also make enough money selling on eBay, but when you first start out the success of your sales will be slow. The reason is that the majority of people that buy on eBay will not buy from a seller that has a low feedback rating. Everyone who starts out on eBay has a zero feedback score. So think about that. Would you trust buying something from a seller with a very low or zero feedback score? I know I wouldn't. So what can a new seller do to increase the chances of making their first sale?
If you want to make your first attempt at selling on eBay a successful one you must start out as a buyer first. This will greatly help
you in two areas. First it will make you see what is expected from the buyer's point of view, and secondly it will increase your feedback score as the sellers leave you positive feedback. Once you get about a 15-20 positive feedback score, I would then start selling. Now when a potential buyer sees your listing and notices that you have a positive feedback score of 15 or more, they will feel more comfortable buying from you then they would if you had a feedback score of zero. For more selling tips read my blog How to Make Money on eBay.
Though eBay, like Affiliate Marketing explained above, is a great way to make money online while you sleep, unlike affiliate marketing you have to pay fees, you have to interact with the customer, and most times with the product too. If you are not a Top Rated PowerSeller like myself, you will have to pay higher fees. Below is a listing of what I have to pay as a Top Rated (Bronze) PowerSeller.
• eBay Listing Fee = $0.30 for each item listed
• eBay Final Value Fee = 10% of the total amount (Item Value + S&H)
• PayPal Base Fee = $0.30 for each item paid
• PayPal Total Value Fee = 2.9% of the total amount (Item Value + S&H)
So let's say you sold something for $100 + $10 S&H = $110. After all of the eBay and PayPal fees you would actually have made $85.21. I arrived at that amount by taking $100 for the product and subtracting a total of $14.79 in fees. The $10 for S&H was removed from the equation because it was used for the actual S&H. Because of these high fees, I have switched my attention to the next way of making money from home and that is…
DIRECT SALES: With Direct Sales I can sell directly to my customers without paying the fees. Though I'm able to bypass the hefty eBay fees, I would still be stuck with the PayPal fees because that would be my preferred choice of payment. However I will save much money by not paying a little more than 10% of my final sale totals.
Another nice thing about having a direct sales website, I can also create and sell my own eBooks as well as other e-Commerce items. By having a website I am in total control with what I can sell on it. I can also create a brand name, and I intend to use my entire eBay username ID as my brand name. It's already an established name on eBay and will identify me as the same Top Rated PowerSeller.
How I started all of this.
I had always known that it is possible to make money and a living from home. There are many online companies that started from home. If others were doing it then I was determined to hop on the bandwagon. However in order to participate I needed the ability to build a website of my own, one that I could create from scratch in a style that I wanted. But I had one big problem, I didn't know how to program one.
However back when I started looking there wasn't yet a way to build a website without knowing any kind of programming. That has now changed. Not long ago I found an online training university that taught me how to create a WordPress website without any knowledge of programming. If you can type a sentence and click a mouse button you can build a website. This training makes it possible for ANYONE, no matter what your educational background, to build a website from scratch and to do it in under 30 seconds. All of the programming is totally automated. See the video on my Getting Started page.
This online training university is called Wealthy Affiliate or WA for short. It's an educational resource community for online marketers,
containing everything you could possibly need to get an online business up and running in the shortest time possible. Everything is included in one place and WA makes it extremely easy for anyone young and old, computer savvy and novice, to build a website at their own pace. You don't even have to know any kind of computer programming. There is no better place in the world that can teach you, and give you support for your own online business than WA, and this is proven by their over 750,000 members from all over the world.
With the knowledge I have gained from the training and 24/7 community support at Wealthy Affiliate University, I am now capable of my own work from home job. It feels really good having that sense of security of both knowledge and finances in the operation of my own business that I can work from anywhere that there is an internet connection. If you want to experience the same feelings then read The Wealthy Affiliate Review and see all of the fantastic benefits you will get for FREE!
Being that I have learned so much from WA, I in turn want to help you to get your business off the ground. I want to take the fear of starting an online business away from you, and show you the best legitimate online jobs that will make your financial future a better one, if you are willing to put in the effort. Let's face it, nothing worthwhile can be achieved without working for it. Hard work always pays off in the end.
Being able to work from the comfort of your couch or bed is now a reality for many. Are you now ready to make it your reality? If you have any comments and/or questions please leave them below. If you would like some ideas as to what types of useful home office equipment you can use, check out my other web page For My Office where I tell you what I use to be productive at home.