Solo Build It vs Wealthy Affiliate – PROOF Why WA is #1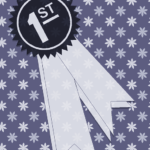 What is the best affiliate marketing training for beginners? With Solo Build It vs Wealthy Affiliate, Google and others rate WA #1 over SBI for high value, low cost, ease of use, and rates of success. Below I will provide proof as to why WA is a better option to SBI.
Let me set the record straight
Back in May 2017, Dr. Ken Evoy the owner of Solo Build It (SBI) falsely attacked the reputation of Wealthy Affiliate (WA), and his motives were obvious. He was defending the reputation of SBI from a few misguided WA member reviews, but he used a broad brush response and went too far.
Matter of fact, much of what he claimed in his oh-so-long three part response was untrue. Ken did an elaborate study using Alexa, SimilarWeb and SEMrush to get his results. It would have been an awesome study if he had used actual data from Wealthy Affiliate.
Unfortunately for Dr. Evoy the success stories of Wealthy Affiliate members and their domains, are only directly visible to members of the community. He claims that the majority of WA members experience failure, and I know that some do, but the majority? No, they do not!
It is not my intention to bash Solo Build It because if I did I would be doing what Ken claims everyone at WA are doing. I will admit that there are some who will create fake reviews, but most of us do not. Personally I only review products I have direct knowledge in. Since I do not with SBI, I will let former members speak instead.
I will not explain why you should join Wealthy Affiliate for Free instead of Solo Build It for $29.99 per month with a 90-day money back guarantee. I am going to show you actual data from both Alexa and Google, as well as comment content from former SBI members (like in above image), as to why WA is #1.
You want proof that WA is better than SBI?
In Dr. Ken Evoy's extremely long 3-part review / study, which I needed an extra large cup of coffee just to get through it all, he says that a website is not successful if it is not getting traffic. He is correct. You do need traffic to make money, if making money is your intention.
However being successful does not have to mean earning money. Success means different things to different people, even the amount of money one has earned will differ from person to person. For example… I had earned more than $3,000.00 in one month thanks to WA, but this may not be a success to others.
Ken is correct that traffic is important to the overall success of a website. Seeing how his study uses Alexa rankings as a great indicator of such success, as of March 2019 take a look at the rankings of SiteSell, which is the domain name for the SBI brand.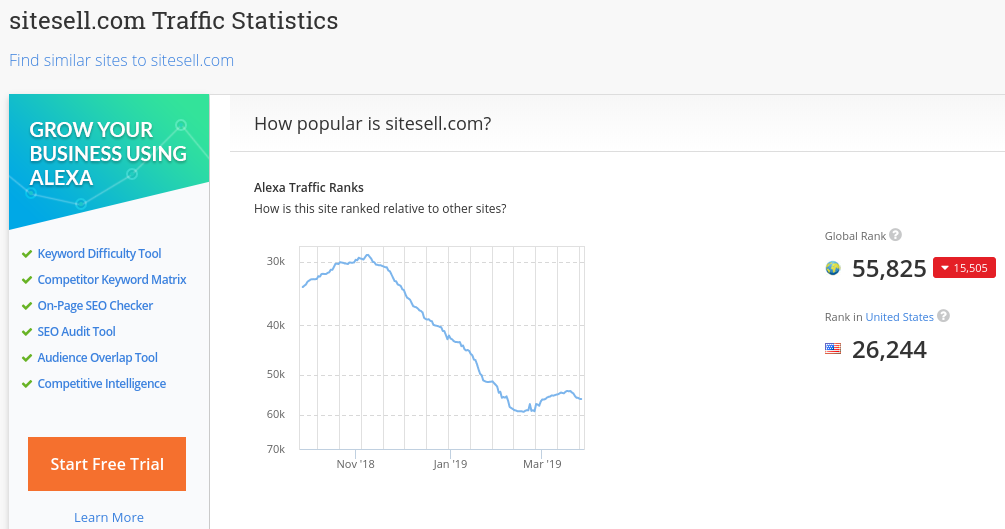 That is a really good ranking for SiteSell. They have a Global ranking of 55,825 (down 15,505 positions versus the previous 3 months) and a United States rank of 26,244. These are not set in stone rankings. They do fluctuate up and down with each passing day.
NOTE:
With Alexa the closer you rank to 1, the more successful you are among all websites in the world. Google has a Global and United States rank of 1 and Amazon of 10 and 4 respectively. You can try Alexa here. Now take a look at the March 2019 rankings of Wealthy Affiliate.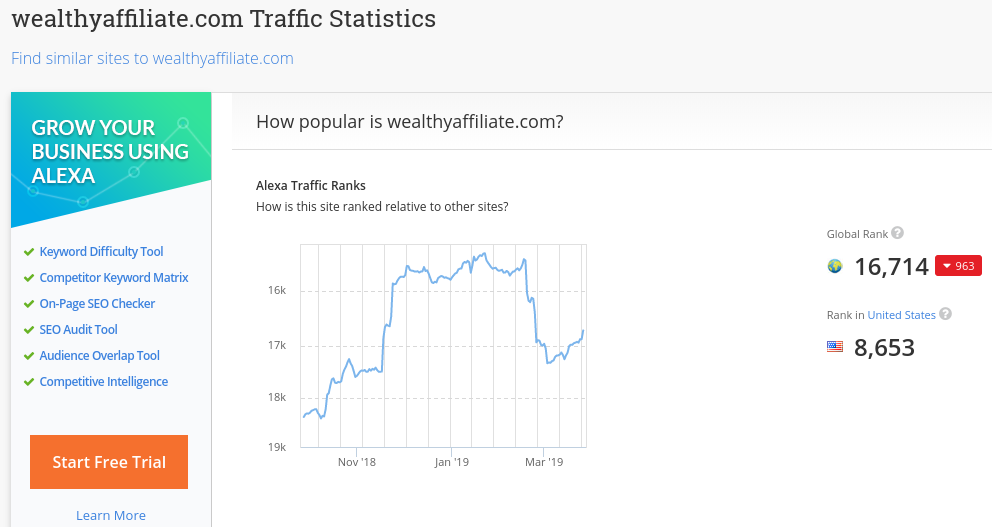 In comparison to SiteSell the Wealthy Affiliate Alexa rankings are impressive. Wealthy Affiliate has a Global ranking of 16,714 (down 963 positions versus the previous 3 months) and a United States rank of 8,653. Again, these numbers will fluctuate up and down everyday.
Solo Build It vs Wealthy Affiliate – Which one is successful?
THEY BOTH ARE!
It is obvious that SBI and many of its members are successful, and the same is true for WA and its members. The Alexa images and rankings above prove this. Dr. Evoy stresses in his study review the importance of Alexa rankings and those I have provided above (and more below) are the proof.
I am a very happy and successful member of WA. The bulk of the money I make comes from three different affiliate marketing programs and freelancing my knowledge of SEO (Search Engine Optimization) content writing that I learned from the awesome WA training. Wealthy Affiliate offers you multiple ways to make money.
Unlike what Ken did in his study review, I am not going to falsely claim that SBI coaches its members to write fake reviews or forces its members to enter into a niche they know nothing about. I know Wealthy Affiliate does NOT do this, despite what is claimed.
What I have learned about Solo Build It I have gleaned from the reviews and blogs of current WA members who used to be members of SBI. There are many former SBI members who switched over, just as I am sure there are some former WA members that went to SBI.

Both successful training platforms have similar characteristics with many of its members experiencing success. But from what I could gather from former SBI members, WA is more user friendly, the training is up to date, a more helpful community, and much easier for the newbie online solopreneur.
Which brand is better? Google can help you with that
The owner of SBI says over and over again that proof of success can be measured through the Alexa rankings. I have shown you above the proof through those same rankings that Wealthy Affiliate is more successful. But how can Google provide proof to which brand is better?
One of the many free Google tools an online marketer can use is Google Trends. This will give you timely results into which brand is better than another competing product. Below is a Live look at the comparison between Wealthy Affiliate, Solo Build It and Affilorama.
What you are seeing above is the Worldwide popularity of three successful affiliate marketing training programs. This is not a static screen shot. This is a Live Update embedded into this page from Google Trends. Look at it in another month and it will look slightly different.
As you can see in the above comparison graph. Wealthy Affiliate absolutely dwarfs the other two platforms. When WA claims to be the best, these are not empty claims. Both Alexa rankings and Google Trends are proof of the success and popularity of WA.
Still not convinced? I will provide you with more proof that Wealthy Affiliate is rated above SiteSell. In addition to Alexa, results from SimilarWeb were also used in the negative review against WA. Below is a screenshot from a comparison rank search I did in March 2019 (do not know why search results say February 2019).
The rankings in SimilarWeb are very much like Alexa. The closer to #1 your rank is, the more successful you are. As you can see the Wealthy Affiliate website has a much better ranking in all three categories than the Site Sell website (the domain name for SBI).
What I like about the SBI website that WA does not do
In the negative review that Ken Evoy did in response to reviews claiming WA is better than SBI, he constantly repeats the need for "Verifiable" proof. I totally agree with him on this. In fact I wish the WA website would do what his SBI website does.
On his website he includes the domain names of those success stories that are chosen to be showcased to provide proof of success. I did exactly what he suggests and I did an Alexa search of the domains posted in the Real Life Success Lessons blog.

As the above image from the SBI website describes, having an Alexa rank within the top 1,000,000 is considered "elite-level, high-traffic sites." Of the last 16 real life success blogs from March 21, 2018 to March 14, 2019, about 50% fall into this "elite-level".
Of the 16 blogs with domain names that I checked in Alexa, nine of the 16 did reach this "high-traffic" level and seven of the 16 were well over a rank of 1,000,000. Does this mean that those seven websites are not successful? Absolutely Not!
As stated in the above image from the SBI website, rankings that are greater than 30,000,000 are failures because they have "undetectable traffic levels." Well that's a relief because this website of mine is in the 4,310,000 range on Alexa and I make money with it, see below.
How about some monetary proof?
All of this talk that Ken does about proof of success is solely relying on traffic to a website. He does not provide any proof of monetary gain. The below image is my first 12 months of affiliate earnings from one program. It is assumed that if you are getting high traffic to your website you are making a lot of money.
For the most part this is true, you do need traffic to make money, but not all traffic will convert into sales. Most people look at success in terms of money earned and not traffic. They want to read and see the amount of money a person is earning.
Nowhere does the SBI website show earnings. Maybe it does somewhere but after spending a couple of hours sifting through the extremely wordy rambling of content, I couldn't find any. Wealthy Affiliate does not provide this monetary proof either but many of its members do.
I recently wrote a blog "showing" the reader how much money I have invested in WA since August 2013. I also show how much money I earned in 2015 alone from the WA affiliate program. In my first 12 months I earned $3,169.00 MORE than I invested in over 63 months.
I can fully understand why people do not want to show how much they make because that is a private subject. But sometimes newbie members to an online training platform that preaches success for its members, need to see some kind of income for proof of legitimacy.
That is why I created the blog at the link above. This is monetary proof that not only the training but the entire learning and online business building experience at Wealthy Affiliate works! There is no high-rate of failure here as claimed by Dr. Evoy.

More proof that WA member sites are successful
As I stated earlier in this article, the SBI review study would have been less fake if Ken used actual data from Wealthy Affiliate. In the above image he claims that "SBI Sites are 33 times (33X) more likely to achieve Outstanding – Excellent levels of traffic than Wealthy Affiliate."
He also goes on to claim that "SBI Sites are 10 times (10X) more likely to achieve Medium levels of traffic than Wealthy Affiliate." Logically think about his claims. Dozens of times he states that WA does not provide domains. So how can he make any comparisons?
I realize that Ken says SBI pulled websites from whois.domaintools which provides all sites hosted under the name server for WA. But the majority of WA members have multiple websites, some being used for test purposes and others that are in the process of being built, Neither of these would show any traffic metrics.
Unless SBI was able to determine which of the websites they gathered were actual active niche related websites, and only used those specific domains, then the results of the study are flawed and incorrect. Where is SBI's proof that the domains used were legit marketing websites?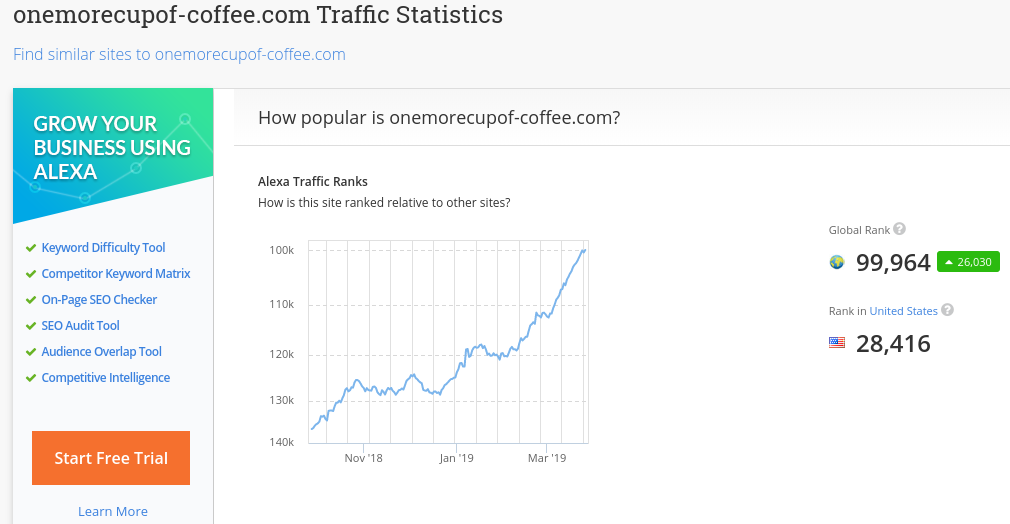 The numbers in his results are not truthful because he clearly says that WA offers no domains as proof of success. If he has no website domains to do an accurate study, then how is his data correct? It is not. The above and below images are of successful WA member websites.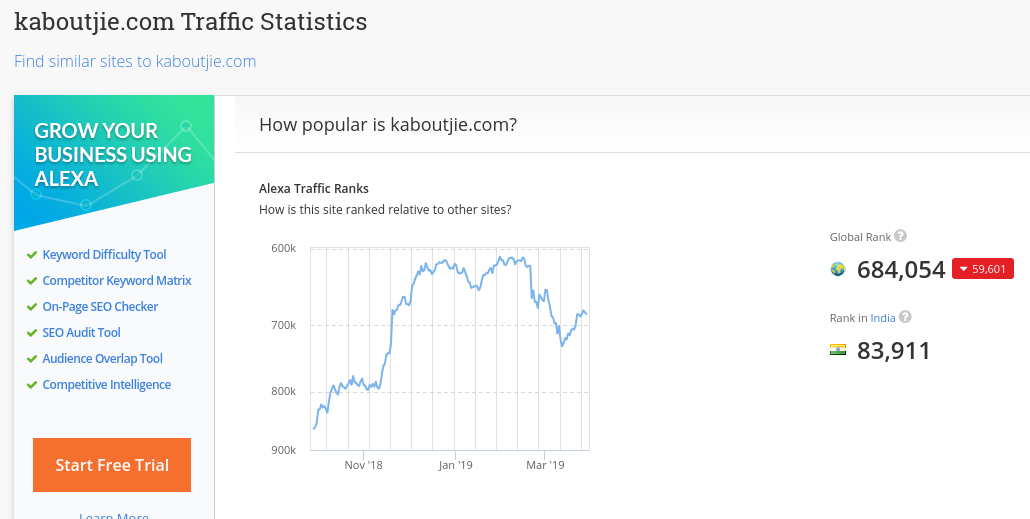 I will admit that it is difficult to find every WA member's websites on the platform because many of us do not share our links. This is for a couple of reasons. To prevent others from copying our content ideas and to not self-promote which contributes to the No-Spam environment of WA.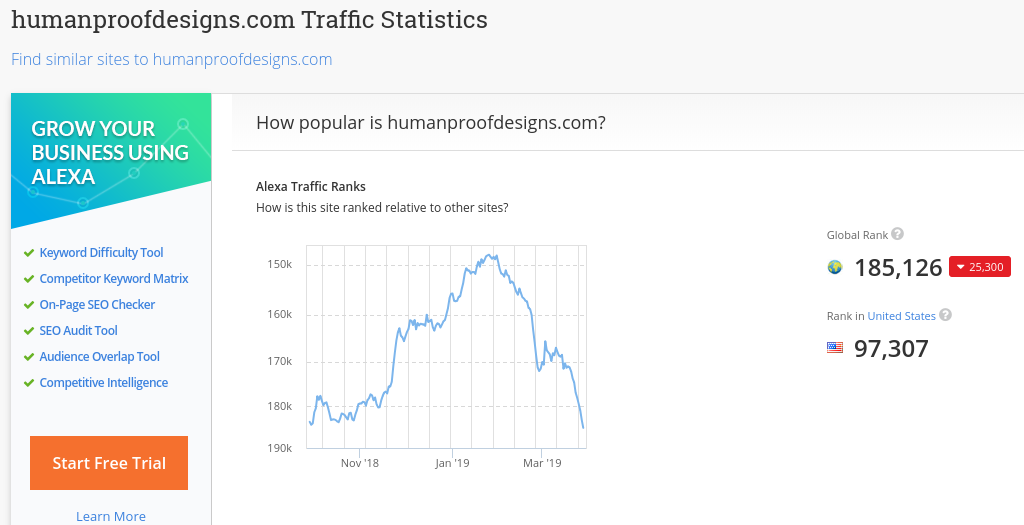 With all of this visual PROOF I have shared with you, there can be no doubt that when it comes to Solo Build It vs Wealthy Affiliate, WA is far more successful than Dr Ken Evoy claims. The same tracking websites he says he used have shown more success for WA.
If you are still not sure after all of this proof from Alexa, Google Trends and SimilarWeb, become a FREE Member of WA Today and read ALL of the collected Success Stories by one of our WA members on his blog post called 2018 – Another Year of Success Growth at Wealthy Affiliate.
My reason for writing this rebuttal of SBI's study
When this erroneous comparison study between SBI and WA came out in May of 2017, many of us members didn't bother to reply to his false claims. Why? Because most of us knew Ken was just venting and defending the reputation of SBI. You cannot blame him for that.
Another reason for not replying into a war of words was so that we could take the high road. We know how great WA is in comparison to other similar platforms. This is not because WA teaches us it is, WHICH THEY DON'T, but because of the proof in the pudding.
No other platform allows you to start and take 10 full lessons, build a WordPress website, learn how to find various niche ideas not related to MMO, gain access to the owners and other community members, learn the basics of Keyword Research and SEO all for FREE!
In order to get access to most of these same things on Site Sell's Solo Build It platform you would have to pay upfront. There is no Free Trial Period like there is at WA. I don't know about you, but if it is free to kick the tires of something I am about to invest in, I am all for that!
So when I recently went to blog about how Wealthy Affiliate is a good return on investment, I searched Google for the keyword "Is Wealthy Affiliate a Good Site to Make Money Online." What appeared was a featured snippet from Quora referencing the SBI vs WA review.
I felt it was time for me to share the real proof and get this out there so people who want true success are not misled into thinking that WA members are not successful. I provided the proof that is claimed doesn't exist. Now it is your turn to make an informed decision. Which training platform do you want to join?

If you are a member of SBI and are successful at making money, may you continue to be blessed in your endeavors. If you are a beginner looking to learn the proper way, a former SBI or WA member and would like to share your thoughts, questions or opinions, please leave them below.
https://legitimatejobfromhome.com/solo-build-it-vs-wealthy-affiliate-proof-why-wa-is-1/
https://legitimatejobfromhome.com/wp-content/uploads/2019/03/Screenshot-2019-03-30-at-4.11.12-PM.png
https://legitimatejobfromhome.com/wp-content/uploads/2019/03/Screenshot-2019-03-30-at-4.11.12-PM-150x150.png
Reviews
best affiliate marketing training courses,site build it vs wealthy affiliate,solo build it vs wealthy affiliate
What is the best affiliate marketing training for beginners? With Solo Build It vs Wealthy Affiliate, Google and others rate WA #1 over SBI for high value, low cost, ease of use, and rates of success. Below I will provide proof as to why WA is a better option...
Robert
Prescott
robertp@legitimatejobfromhome.com
Administrator
The Best Legitimate Job From Home