Free Drop Shipping Wholesale Suppliers – Make Money on eBay
Making money on eBay and turning a profit requires that you find free drop shipping wholesale suppliers. In this post I will show you how and why that is important. There are so many companies online that "claim" they are wholesalers, drop shippers or both, when in fact they are more than likely middlemen. In just a bit I will explain how you can easily tell who is legit or not.
What are the benefits?
Though there are many ways to earn money selling on eBay, whether it be selling your own excess items you have around the house or the items of other people, using a wholesale supplier will make you more money. And if that supplier does drop shipping, you will save more by not having to stock the items and shipping them yourself.
But you need to be careful that you pick the correct wholesaler to work with, and you really need to understand what drop shipping is and is not. Despite what many people think or believe is truth, online companies like DS Domination do not teach true drop shipping techniques, nor do they operate with the standard approach to this kind of shipping.
It has been reported online, on social media, and on this website, that many members of the DS Domination scheme that solely do the eBay selling, rarely make a big enough profit. Those that do, will most times forget to subtract the multiple levels of DSD membership fees from their profits. The only way members make money is in the network marketing side of the program.
If it sounds too good to be true…
One of the main reasons why DS Domination became so popular back in 2014 was the simple way one could do drop shipping on eBay. Roger Langille, the lead creator of the program, would teach its members to find an item selling on Amazon, copy the picture and description, and paste it into eBay for a higher price.
Then when the item sells, use the money your customer pays you to purchase the item from Amazon, and have them ship it to your customer for free in a plain box. You would then pocket the difference. Just copy and paste then have Amazon ship it. Sounds super easy, right? Well there is a big problem with this way of arbitrage selling.
First off this is NOT real drop shipping and what you are not told is that your profit margins will be very small if at all. For example, if you sold something for $100 on eBay that cost $80 on Amazon, you would think your profit would be $20, correct? But that is not the case. You first would have to subtract all of the fees.
eBay will charge you $10 (10%) + $0.30
PayPal will charge you $2.90 (2.9%) + $0.30
Add all of that up and your profit is now only $6.50
Now calculate you daily DS Domination membership fee and subtract it from $6.50 and your profit could be closer to $0.00
This is one of the main reasons why the DS Domination program of copy (which is illegal) and paste, has not been beneficial to most DSD members. Their concept was quite popular when they first started. However, once people realized that they weren't making much money, that it wasn't true drop shipping (which is a profitable business model), the interest dropped like a rock, see below graph.
Make money doing real drop shipping
Forget about everything you thought drop shipping was all about and get ready to learn the truth. Yes, you can make good money selling on eBay, Amazon and your own ecommerce website when doing proper drop shipping. The best way to turn a nice profit is to use REAL wholesale suppliers and the kind that do drop shipping.
When working with a wholesaler you will get to work with a supplier that deals directly with either the manufacturer or the direct distributor. In either case the cost for the goods are the same. The supplier then buys in bulk which they can get at a low price and then turn around and sell the products to you at wholesale.
However you need to be careful because there are many companies out there that will call themselves wholesalers when in fact they are not. The same is true for some companies that claim to be drop shippers. Again they are not legit wholesalers or drop shippers. Knowing how to spot them isn't that hard and with the help of some experts, finding them is real easy.
My #1 Recommendation
So who are these experts? Though there are a couple of resource directories I have used for sourcing wholesalers, my number one recommendation is Worldwide Brands, Inc. (WBI). I am a member and it is well worth the price in comparison to the profits you will make. Best part about their service is knowing that they only provide free drop shipping wholesale suppliers.
Take note of the word "free" because that is one of the ways to know who is a legit wholesale drop shipper. If you have ever paid any kind of fee when dealing with a wholesaler and/or a drop shipper, you were dealing with a scam supplier. Real wholesale suppliers will never charge you a startup fee, monthly fee, or yearly fee.
Every single supplier that Worldwide Brands lists in their directory is certified to be legitimate and will never charge you any fees. I guarantee that you will not find a better directory with thousands of suppliers selling millions of products, most based here in the U.S.A., anywhere else online. Since 1999 they have been the industry leader in trustworthy resources of free suppliers.

Guaranteed peace of mind
When you become a member of Worldwide Brands not only do you get to be a lifetime member but you get access to thousands of free suppliers. There is no need to worry if you are being scammed or getting ripped off in prices. Many of the wholesalers listed are the same ones that major retail stores are using, so you can rest assured that these are legit.
No matter what size your ecommerce business, you will have access to all kinds of certified real wholesalers and drop shippers. Within the Worldwide Brands database are, top level drop shippers, light bulk distributors, large volume suppliers, instant import buyers, and liquidation dealers. Basically, something for every size business.
Every free supplier that Worldwide Brands offers in their directory can only gain access by being certified. None of them can pay WBI to be listed, this way you can feel safe dealing with any company and know that you are getting true wholesale prices. When it comes to making a profit online, item cost is very important.
Why should you join Worldwide Brands Inc.?
The WBI database has been the most trusted one-stop source of quality suppliers the world-over for 17 years! No other source of wholesale suppliers has ever been so comprehensive for all who would use this service for any kind of ecommerce business. Whenever you sell online you need to have the ability to undersell your competition, with WBI you now can.
The Worldwide Brands resource of suppliers has many different functions to help you find the right products to sell online. They will help by giving you ideas as to how products are currently selling and will provide data on how to determine where to source these products. The below video will give you a brief overview of what WBI has to offer.
Becoming a member of Worldwide Brands will give you the absolute best chance to
make money selling on eBay,
Amazon or any other kind of ecommerce business. Have you ever noticed that prices of some products on eBay or Amazon that are not being sold from China, are quite cheap? This can be the result of people who are dealing with real wholesale suppliers.
When you are a member, you will have the best resources available at your fingertips, with new certified suppliers being added every month. If you live outside of the United States, do not worry, many of the suppliers in the WBI database will ship products overseas. You will not find a better opportunity to help your ecommerce business than Worldwide Brands Inc.
You get what you paid for
That saying is so very true when it comes to finding a quality service to align your business with. Too often people will try to do things that will save them money, but when it comes to your business you need to be careful. Choosing a service that is cheap in price will most times give you cheap results. Do you really want that?
When it comes to the success of your ecommerce business, paying for quality will always return you with higher profits and there is no other service available like Worldwide Brands. Sure there are a few other online services available, but none of them offer the abundance of certified free drop shipping wholesale suppliers.
For example, another service used by those who sell on eBay and Amazon is SaleHoo. Though their service caters to these two ecommerce sites and their yearly membership is about $67, they do not offer certified wholesale suppliers and they are not based in the United States. Remember, there are so many middlemen and scammers claiming to be wholesalers.
Then there is the free resource directory on Google called Wholesale Central. I have used this directory several times but only because I know how to determine who is a legit wholesale drop shipper and who is not. Just because this resource directory is free, it does not mean that the service you get will be beneficial to your ecommerce business.
Become a Lifetime Member of WBI
The majority of drop shippers, wholesale suppliers and light bulk distributors listed, are based in the U.S.A., many which will work with international sellers too. There are just so many awesome features to Worldwide Brands, Inc., that I cannot list them all here. What I can say is that you cannot go wrong by becoming a Lifetime Member of the most trusted name in the industry.
As I said earlier, none of the certified wholesalers listed within this directory have paid WBI. Unlike the other resource directories mentioned above, those middlemen will pay those directories to be listed. Just think about what that means. That means they will rip you off by charging you a monthly fee and higher than wholesale prices to make up for what they pay to get listed.
As a Lifetime Member of Worldwide Brands you will have instant access 24/7 to their entire directory of legitimate suppliers that do not charge any monthly or annual fees. You will get direct wholesale pricing from factory authorized wholesalers which means you keep all of the profit from your sales. Now you too can offer great prices and undercut your competition.
For a one-time fee of $299 for life you will get to work with the wholesale suppliers in the Worldwide Brands directory that are also used by major retail chains like Nordstrom, Best Buy, JCPenny and many others. That cost may seem high but I promise it is well worth it. If major retailers trust WBI, why shouldn't you? Become a member today and start making a profit tomorrow!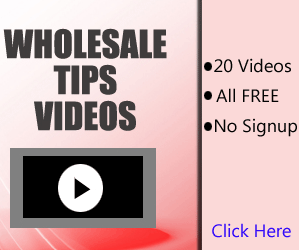 I hope you enjoyed my review of Worldwide Brands. If you have any questions or comments please leave them below. If you are interested in another form of online marketing that does not require you to buy, stock or ship any products, I invite you to become a free member of the #1 Rated Online Training Community known as Wealthy Affiliate University. To learn more about them click this link here to read what is offered.
https://legitimatejobfromhome.com/free-drop-shipping-wholesale-suppliers-make-money-on-ebay/
https://legitimatejobfromhome.com/wp-content/uploads/2016/06/Free-Drop-Shipping-Wholesale-Suppliers_2.jpg
https://legitimatejobfromhome.com/wp-content/uploads/2016/06/Free-Drop-Shipping-Wholesale-Suppliers_2-150x150.jpg
Reviews
Video
free drop shipping,how to make money on ebay,wholesale suppliers,work from home
Making money on eBay and turning a profit requires that you find free drop shipping wholesale suppliers. In this post I will show you how and why that is important. There are so many companies online that "claim" they are wholesalers, drop shippers or both, when in fact they...
Robert
Prescott
robertp@legitimatejobfromhome.com
Administrator
The Best Legitimate Job From Home