What is the Amazon Associates Program – Make Money at Home
What is the Amazon Associates program? It is a free and easy way for you to make money from home. In this post I will explain how to join and how you can get paid by Amazon for promoting their products online as one of their affiliate marketers.
Hundreds of Thousands of people do this everyday
Online affiliate marketing is a fantastic way for anyone with a blog or website to earn passive income. This is not a hard endeavor to get started in, but it does take a little bit of training, which can be done online in your spare time from home.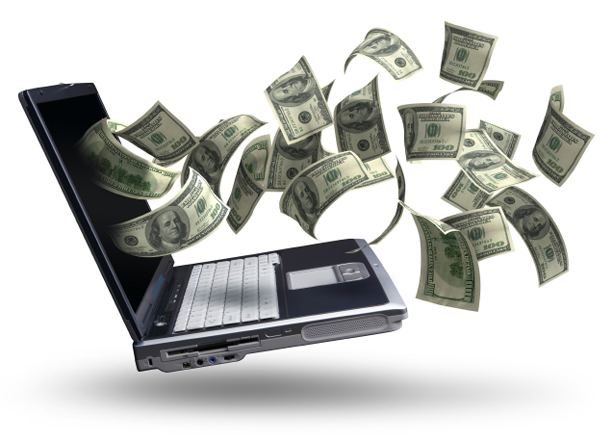 This form of marketing is not only easy and fun, but it has exploded in the amount of earnings everyday average people can make for just writing and sharing information on their blogs and social media. Even having your own blog and website is super easy to obtain.
You no longer need any kind of technical experience to have your own website. You have probably seen TV ads from companies like Wix, Weebly and GoDaddy promoting how you can get a website in less than an hour. I create this website within a minute using Site Rubix.
Millions of people have their own website but many fail to understand how they can monetize it. By learning how to create affiliate marketing content that will get ranked in Google, and then becoming a free Amazon Associate (affiliate), is the easiest way to earn income.
Before you make money this needs to happen
Though it is true that anyone regardless of technical knowledge can have their own website, it is another thing to be able to make money with it. Before you can earn money you need to understand how the process works, otherwise Amazon will not accept you as their affiliate.
You first need to select a niche market that you wish to target. It could be anything you are interested in but it should not be too broad of a niche. I explain in more detail how you can find more specific niches in my post about sub niches here.
But for the sake of this discussion let us say that you chose Star Wars as your niche, and to be more specific, Star Wars collectibles. You would then start writing content on your website about different kinds of collectibles. It could be as simple as your thoughts and recommendations.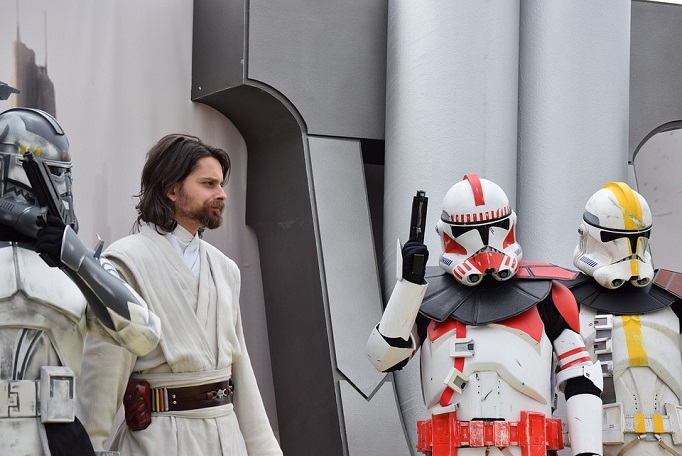 There are millions of people all over the world who are into Star Wars. These people will be your target audience in this niche market that you will make money from. But how will you get people to find your website on the internet?
Google, Bing and Yahoo will help you
There is a technique every person that has a website must learn how to do if they want to make money online. This is something you never see advertised on those TV commercials from Wix, Weebly and GoDaddy, but it is essential. It is called Search Engine Optimization or SEO.
SEO is a process you incorporate into the writing of your website content that will get the search engines to notice your website and rank it accordingly. The higher you get ranked, the more people will see your content on Star Wars collectibles.
Knowing how to do SEO is not as hard as some people think, and I explain where you can learn this down below. But once you have your content being ranked in the search engines and you start sharing your website links on social media, people will start following you.
The more people that follow and click on your website links, the more money you will be able to make. Now that you are getting traffic coming to your website, it is time to apply to be an Amazon Associate. You will be accepted once Amazon sees that you are a legitimate website.
The making money process is simple
Now that Amazon has accepted you as their affiliate, how will you make money from your website content? By placing relevant affiliate links inside of your blog posts and articles. These links will send people to Amazon to make a purchase and you get paid a commission.
Example. Let us say you did a blog post about a Darth Vader statue collectible, telling how detailed it is and why a Star Wars fan would want it. The person reading your website post is convinced that they should purchase it. They see the Amazon link and click on it.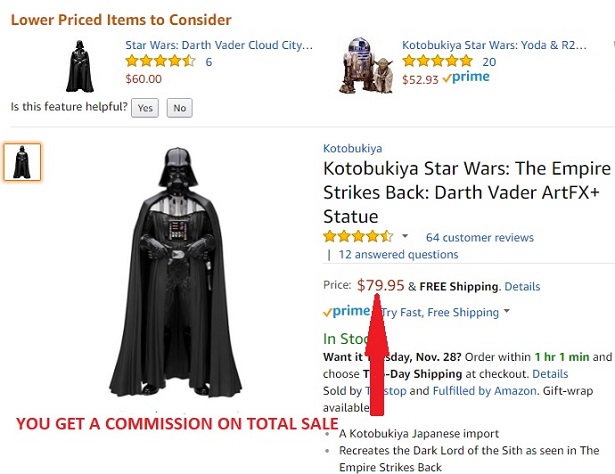 They are now sent to the shopping cart on Amazon with the statue there ready for purchase. They make the purchase, Amazon ships them the statue, and Amazon adds your commission (up to 10%) into your Amazon Associates account, which is paid to you at the end of each month.
How does Amazon know that the sale came from your website? Once you become their affiliate you will be given a unique ID number that will automatically be placed in every link and ad they freely give you. This is how they know who to pay the commission to.
How you can make even MORE money
One of the great advantages to being an affiliate in the Amazon Associates Program is you can get commissions on the total of the order. Here are two examples. Your website reader purchases the Darth Vader statue and also a new case for their iPhone.
The following example is even more-cool. Your website reader clicks on your Darth Vader affiliate link but then when in the shopping cart decides not to purchase it but instead purchases a brand new iPhone X. You will still get paid a commission.
The items purchased by the person sent to Amazon does not even have to be what you are advertising on your website. As long as they entered Amazon from your affiliate link, you will get paid a commission on the total of their order, whatever it is they buy.
Since Amazon is the best online retailer at getting its customers to buy more products on one order, you as their affiliate can earn more money in commissions. It is one of the reasons why the Associates Program is the most successful affiliate program online.
How you can Get Started Now
There are practically an endless amount of products that you can promote on your own website that Amazon sells. All you have to do is select a niche you want your website business to be about, write SEO content on that niche, and apply to Amazon.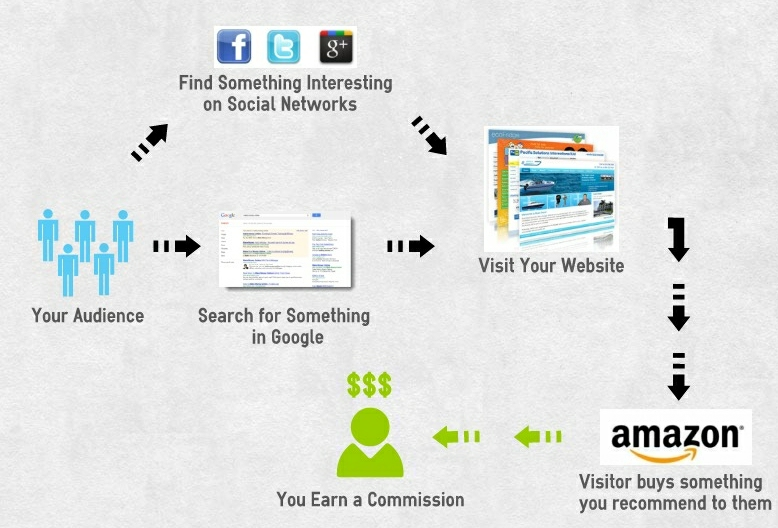 The image above is a simple representation of how the process of making money online in affiliate marketing with Amazon works. Learning how to get started in becoming an affiliate marketer is also simple and very inexpensive. It is actually FREE to start.
The #1 Rated online training program that will teach and provide you with everything you need is called Wealthy Affiliate. You will not find a more inclusive affiliate marketing training program, with no upsells, anywhere for such a low cost.
Matter of fact, if you click on the above image, it will take you to Wealthy Affiliate and allow you to watch the free video lesson on how you can make money as an affiliate in the Amazon Associates Program. This is one of 10 free lessons you get at WA.
Get absolutely EVERYTHING you need for success
When you become a member of Wealthy Affiliate you get to start your first 10 lessons and build your WordPress website all for free. Just like those other website building companies at the beginning of this post, your website can be built within a minute without programming.
But that is the only similarity WA shares with those other companies. Wealthy Affiliate gives you so much more for so little money. You will learn how to write SEO content, how to get ranked in Google, and how to make money in affiliate marketing with Amazon and hundreds of other companies.
The only things WA cannot give you is your determination and patience to reach success, which normally takes between 6 to 12 months of solid learning and building. That is really a short period of time when you consider how long it takes to build a business from scratch.
Just like Amazon, Wealthy Affiliate has some nice earning income perks too. The monthly membership cost for everything is only $49.00 and you can build up to 10 different affiliate marketing websites for no extra cost. Come join me at WA for free today! If you have any questions, please leave them below.
https://legitimatejobfromhome.com/what-is-the-amazon-associates-program-make-money-at-home/
https://legitimatejobfromhome.com/wp-content/uploads/2017/11/Amazon-Associates-Program.jpg
https://legitimatejobfromhome.com/wp-content/uploads/2017/11/Amazon-Associates-Program.jpg
At Home Jobs
Reviews
affiliate marketing online,what is online affiliate marketing,What is the Amazon Associates Program
What is the Amazon Associates program? It is a free and easy way for you to make money from home. In this post I will explain how to join and how you can get paid by Amazon for promoting their products online as one of their affiliate marketers. Hundreds of...
Robert
Prescott
robertp@legitimatejobfromhome.com
Administrator
The Best Legitimate Job From Home